Domestic Violence Program

Services
Group Schedule
Tuesdays: Support Groups, 5:30 to 7:00 p.m.
Wednesdays: Healthy Families, 12:30 to 1:30 p.m.
DV 101 Class, 10:30 a.m. to 12:00 noon
Please note: If you have not filled out intake paperwork yet, you will have to do that before you can attend any group. If you children are gonig to be attending children's group, their paperwork must be completed ahead of time, as well.
Residential Shelter
The Dove Shelter is a place of safety and respite for adults and children who are experiencing domestic abuse. The Shelter is staffed 24 hours a day and provides not only the basic necessities for its residents but also support services. The Shelter is accessible on a walk-in basis at 302 S. Union, Decatur, and through Dove's 24-hour telephone hotline: 217.423.2238.
Counseling
Individual and group counseling is provided to adult and child residential/non-residential participants.
Legal Advocacy
Legal advocacy is an integral part of the Domestic Violence Program. Staff members assist victims of domestic violence in obtaining Orders of Protection, as well as their legal options. Legal Advocates are available to accompany the victims as they maneuver their way through the court system.
Children's Services
Children receive specialized services such as individual and group counseling. Support and nurturing are importance components of Dove's children's program.
Referral
Dove is a cooperative member of the social service community. When necessary, Domestic Violence Program staff refer participants to other agencies or groups for matters in which Dove is unable to assist.
NDVH National Teen Dating Abuse Helpline www.loveisrespect.org
Education
Domestic Violence Program staff provide the community with education, training, workshops and seminars about domestic violence issues on a regular ongoing basis. The Domestic Violence Education and Volunteer Training is currently being offered in the Spring and Fall.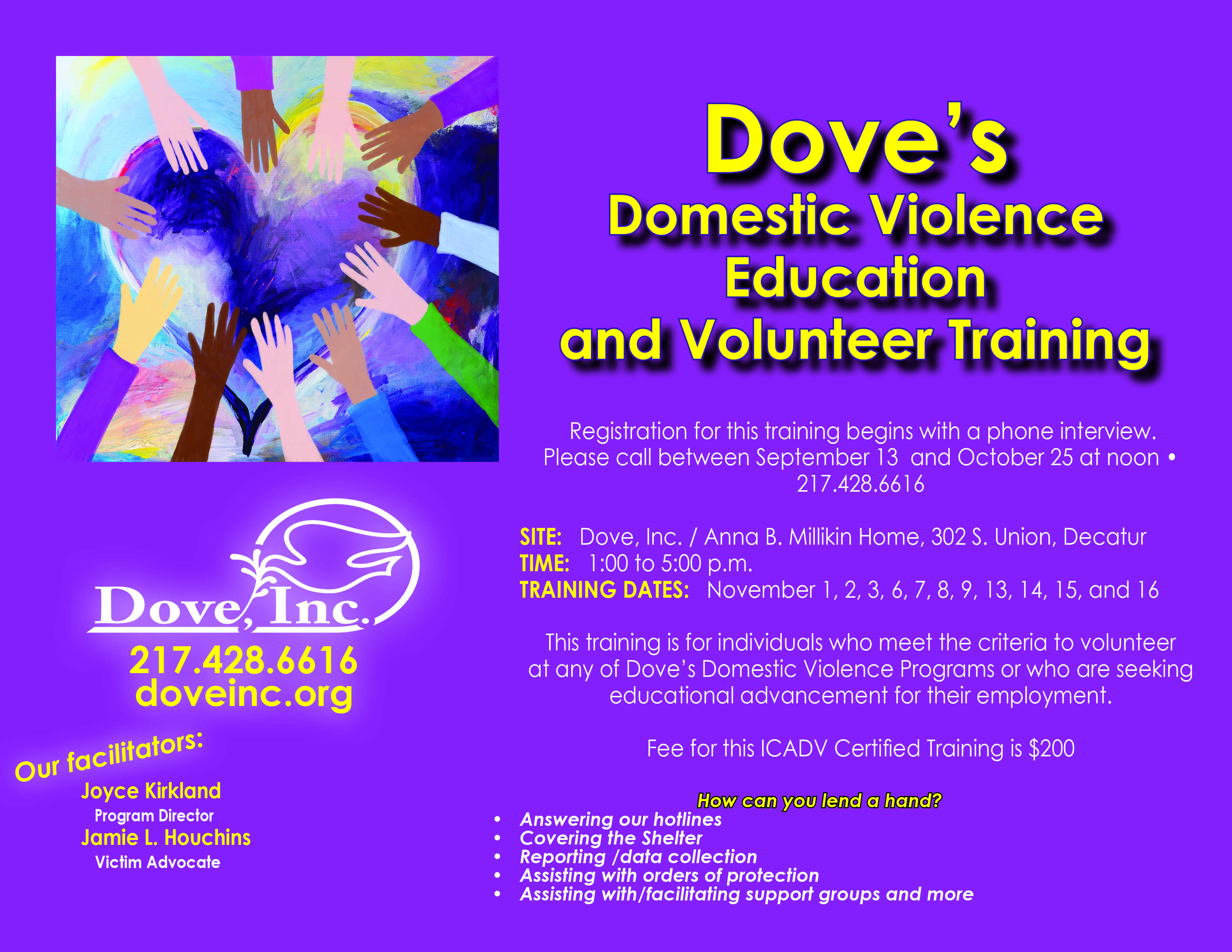 If you are in danger, please:
Call 911
Call Dove - 217-423-2238
or call
The National Domestic Violence Hotline - (800) 799-SAFE
(the email is only for general inquiries)
---
Help - Hotlines
(collect calls are accepted)
DeWitt County
217-935-6072
Macon County
217-423-2238
Moultrie County
217-728-9334

Shelby County

Piatt County

217-774-4888

217-762-2122

TTY Line
217-428-6559