Christmas Care & Share is our Annual Christmas Basket Drive!
This is a combined effort with the Northeast Community Fund, Salvation Army and is supported by hundreds of churches, businesses and groups throughout the community. Dove and NECF partnership started in 1972 and Salvation Army joined in 2020. Traditionally the drive provided food and gifts to over 300 households each holiday season. We became the local distributor for Toys for Tots in 2019.
Coats for Kids!
This annual coat drive teams up with local clothing rooms to provide coats for children. Area dry cleaners serve as drop off sites and make sure each coat is cleaned; local businesses serve as drop off sites; and schools and businesses also participate in this project, as do all of the individuals who donate coats. WAND-TV is the co-sponsor.
This coat drive began in 1992 and has distributed more than 84,000 coats through the program.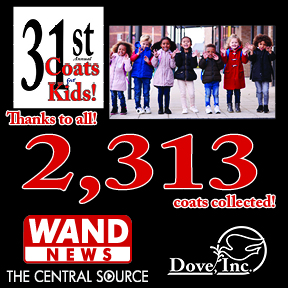 DeWitt County Food Pantry
The food pantry is located at the Dove Offices in Clinton, 803 West Leander. It is open to DeWitt County residents needing food. During COVID-19, folks can get food once a week. (traditionally it is once every 30 days)
Thursdays, 10:00 a.m. to 2:00 p.m.